Hiking Trails in Juneau – Mount Roberts Trail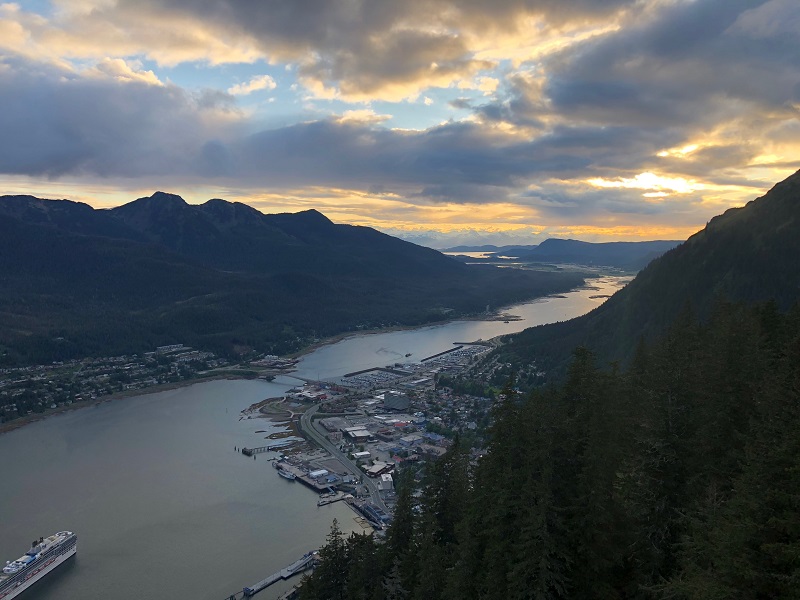 Mount Roberts Trail is another of Unplugged Adventures amazing hiking trails in Juneau. When your cruise ship docks in town, it's an easy walk from our office downtown (across from Dock C) through boreal forest to the Basin Road trail head providing increasingly good views, beautiful wildflowers and wildlife spotting.
The 7.6 mile Mount Roberts Trail is a moderately trafficked trails that is rated as difficult. The trail rises to an elevation of nearly 4,000 feet and offers a number of activity options. It is best used from March through September. Dogs are allowed on this trail. As one of the more challenging hiking trails in Juneau, you will be rewarded with fantastic views and even snow toward the end to help you cool off after a strenuous hike.
Hiking the Mount Roberts Trail when its dry is best; if it has been raining it can get muddy and a bit slippery. You will need good tread on your footwear and may have to use your poles along the way. Under certain conditions your spikes will come in handy due to ice under the snow pack, but you rarely need snowshoes.
From the trail head it's 2.5 miles rising to the tram station. This is a great, mostly uphill, hike on a well maintained trail for those who are sure footed and not afraid of heights. There are really great views of the of the Gastineau Channel, downtown Juneau and Douglas Island.
After passing the tram station hikers will soon be above the tree line and the views keep getting better all the way to Gastineau Peak. From this point it's only another mile or so to Mount Roberts Peak! The view from the top is epic! Depending on your schedule, this may be the time to turn around and return to your ship – you don't want to miss the boat! It's an easy hike back down to downtown Juneau.
If you have to stop at the tram you're really missing out if you don't at least get up on the ridge line! From here it's a smoother gradient and usually less muddy. It gets pretty rocky after you pass the cross toward the ridge, and becomes more challenging but still worth the climb. On a clear day you can see some spectacular views of the various peaks and valleys from up top! You will likely see lots of marmots and ptarmigans, northern harrier and ravens, spruce grouse and other birds on this route, but also keep an eye out for bears.
Experience an unforgettable Alaska shore excursion, dedicated entirely to you, on a Juneau Hiking Trails adventure to Mount Roberts. We know you have limited time, that's why Unplugged Adventures has gone the extra mile to make sure every minute you have with us is incredible. Our goal is to make the most of your day, and we hope to see you again on your next hiking trails in Juneau shore excursion!
Unplugged Adventures is located across from Dock C at 549 S. Franklin, downtown Juneau. Call us at 1-800-989-9868, email us

[email protected]

at or visit us ONLINE. to book your adventure today!