Juneau Hiking Trails – Perseverance Trail
Juneau hiking trails are interesting and diverse shore excursions from Unplugged Adventures. As a favorite hiking adventure, Perseverance Trail, on the way to Gold Creek, is not to be missed. This nice, gentle climb overlooking a beautiful valley, waterfall and river are just part of the fantastic scenery to be found on Juneau hiking trails. You can drive your Jeep all the way to the trailhead. Dogs are also welcome to use this trail. There are a number of activities along this Juneau hiking trails adventure.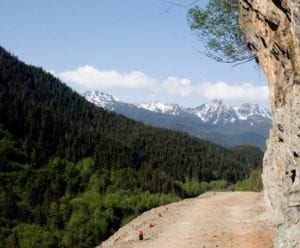 Perseverance Trail is a 5.7-mile long oft-used trail located near Juneau. In some places where there is a boardwalk, if there is rain, snow or ice present, a bit more caution is required as the walks can become slippery. The months of May through September are typically the best months for a Juneau hiking trails excursion. 
Perseverance Trail is a nice, easy, well-maintained option for a Juneau hiking trails adventure. The skill level is not difficult; for someone looking for more of a challenge, there are numerous side trails. We can't say enough about all the great scenery and views you will encounter. The lovely alpine and waterfall views make it more than worthwhile for a Juneau hiking trails shore excursion.
Ending at Perseverance Lake, this section of Juneau hiking trails has wonderful photographic opportunities, and if you want to try some trout fishing, this is an ideal spot to do it. Here you will find access to the Minerva Mountain Trail which is approximately 2 ¼ miles from the trailhead. 
Unplugged Adventures provides a picnic-style meal that includes locally made fudge, wrap, chips and beverage. Your Jeep will also come with binoculars, rain ponchos and a blanket for a relaxing lunch break during your hike.
Experience an unforgettable Alaska shore excursion and explore the natural Juneau hiking trails, an Unplugged Adventure's all-inclusive, self-paced excursion. Once your ship has docked, find us easily – we're just across from Dock C – check in, pick up your Jeep and you're on your way!