Hiking Trails in Juneau – Rain Forest Trail
Rain Forest Trail is another of the hiking trails in Juneau that provides an excellent opportunity to experience the serene beauty of Southeast Alaska. Beautiful and well maintained, Rain Forest Trail as it traverses through the Tongass National Forest, is suitable for children and families. It is wheelchair and stroller accessible, and dogs on a leash are welcome. Convenient access begins at the Rain Forest Loop. The easy skill-level trail is about a mile long.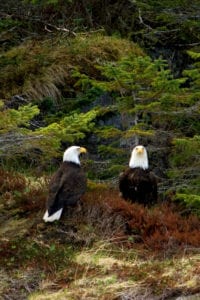 With more than a hundred hiking trails in Juneau, the Rain Forest Trail, while relatively short, offers a unique variety of different habitats. Winding beneath the old growth forest of towering spruce, pine and hemlock, it then passes through a pine bog and wetlands where the trees change to newer growth alder. Beyond the trail, a boardwalk stretches over an old remnant pond from a large, inactive beaver dam.
As it gradually slants downward, hikers descend to the rocky beach at the north end of Douglas Island on the shores of Glacier Bay. Here, hikers are rewarded with some of the most panoramic views in the Juneau area of snowcapped mountains and distant glaciers. Across the bay are Chichagof Island and Admiralty Island, two of the largest islands in the Alexander Archipelago.
The Unplugged Adventures Rain Forest Trail hike is a perfect choice for visitors seeking hiking trails in Juneau.  Discover hidden coves and streams full of salmon and trout; photograph wildlife or enjoy birdwatching.
As one of Alaska's oldest and most beautiful cities, Juneau is one of the favorite stops for visitors looking for things to do. Hiking trails in Juneau offered by Unplugged Adventures are a shore excursion everyone can enjoy. The trails range from easy, beginner trails to more challenging trails for advanced-level hikers. You'll be sure to find hiking trails in Juneau that are adventurous and exciting.
We at 
Unplugged Adventures
 wish to provide you with the best, most memorable experience that Juneau has to offer.  A hike on the Rain Forest Trail is sure to accomplish that, making your vacation fun and adventurous. Don't wait to book your Rain Forest Trail hiking trails in Juneau adventure from Unplugged Adventures today. Visit us 
ONLINE.