Top 10 Things to do in Juneau – #5 Gold Creek!
One of the most unique and fun things to do in Juneau is to head to Gold Creek, where adventure awaits. At one time this was the site of one of Juneau's largest gold discoveries. Located in the Silver Bow Basin at the edge of Juneau in southeast Alaska, Gold Creek is known for the bright flakes of gold that can still be discovered. Panning for gold is an unforgettable Alaskan experience and Unplugged Adventures will get you there!
Gold was 'discovered' here in 1880 when Chief Kowee, (Kawa.ée, 1817 – 1892), an Auk Tlingit Indian, heard of George Pilz's offer of "…100 Hudson Bay blankets and work for the tribe…" for each commercial gold discovery. He first met with gold prospectors Joe Juneau, who the city was subsequently named for, and Richard Harris, employees of George Pilz, an entrepreneur and mining engineer from Sitka. Kawa.ée produced specimens of quartz, rich with gold, and other ore, from the area. The prospectors were quick to file placer claims, as well as several quartz claims, in the name of George Pilz. By January 1881, 71 placer gold claims were registered for that area. By 1903, sixty miners were working the three mines in Gold Creek located on the "main lode system of the Juneau gold belt."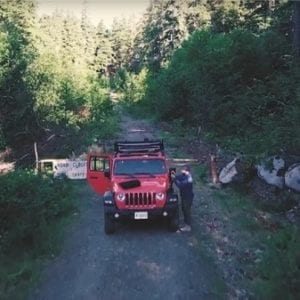 Unplugged Adventures is dedicated to providing things to do in Juneau that will create lasting memories for our guests. In almost every major Alaskan community gold mining has been an important part of its history, and in some areas, it still is. Lots of people who come to here looking for things to do in Juneau want to try their hand at panning for gold, and who knows? You may find enough gold for a pair of earrings.
When on a quest for a true Alaskan adventure and exciting things to do in Juneau, we provide everything you'll need for gold panning, including the mining pans, diggers, an educational video to show you how it's done, plus keepsakes to take home with you.
If you have any questions about things to do in Juneau on one of Unplugged Alaska's Jeep tours, or want to know anything about ship schedules, gear or anything else, just ask, we're happy to help. Our goal is to make the most of your day, and we hope to see you again when you are visiting Juneau! Schedule your Gold Creek tour today!