Top 10 Things to do in Juneau – #4 Governors Mansion
One of the popular things to do in Juneau on an Unplugged Adventures Jeep excursion is to visit the Governor's Mansion. Just a short distance uphill from the pier, past the park and the overlook you will see this stately old home boasting a fabulous native totem pole to the side of the building. Situated in a lovely, quiet neighborhood with its beautiful flowers, winding streets, and hillsides make it one of the more pleasant things to do in Juneau on a pretty day.
Technically, it is not in the literal sense a "mansion" and is officially known as the "Governor's House." The people o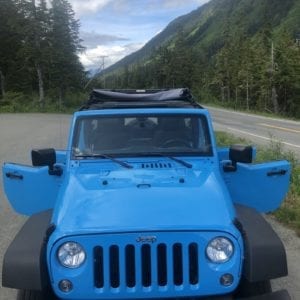 f Alaska wanted their governor to be considered one of the people and not someone of royalty. Locally it is often referred to as the People's House. The first occupants of the Alaska Governor's Mansion were Territorial Governor Walter E. Clark and his family who moved in on 1 January 1913. The home is considered to be the official residence of the Governor of Alaska and family, although due to the remote location and limited outside access, many of our governor's have chosen to live outside the city, flying in on special occasions.
Designed by architect James Knox Taylor, it was built for a mere $40,000. The 26-room, 2 ½ story estate (excluding great halls, garages, closets and bathrooms – there are ten!) includes servants quarters, a territorial museum and eight fireplaces. Located on the first floor are the reception hall, drawing room, library, dining room, offices, the kitchen and pantries and a conservatory. On the second floor, there are six large bedrooms and a sewing room.
The Governor's mansion is a fitting reflection of Juneau's historical importance, and remoteness, throughout the last century. The estate radiates the history of this unique and beautiful state and has been kept in spectacular condition. It is listed as a Historic American Building on the National Register of Historic Places in The City and Borough of Juneau. Unfortunately, it is not open for inside tours for things to do in Juneau except by special arrangement or during the community open house at Christmas.
Unplugged Adventures knows you have a lot of things to do while in Juneau, and our number one priority is to make your excursion a memorable one. As with other suggested things to do in Juneau throughout the region, there are stunning photo opportunities at the Governor's mansion, and we provide a customized guide to point out interesting facts and figures for you. We offer a vast array of options to suit any adventurer's taste of things to do in Juneau. Book online or by calling 1-800-989-9868, or hop across the way from Dock C at the pier and find us at 549 S. Franklin Street in Juneau.