The Best Things To Do On A Self-Guided Jeep Tour
If you're interested in things to do while in Juneau, Unplugged Adventures offers a great opportunity to independent-minded folks who want to see and do things their own way. Our self-guided Jeep tours provide a way for you to have a fun and informative shore excursion. Each Jeep has three pre-selected route buttons to select from to guide you along our most highly recommended routes, including a few hidden photo opportunities you won't want to miss, or you may prefer choosing your own itinerary.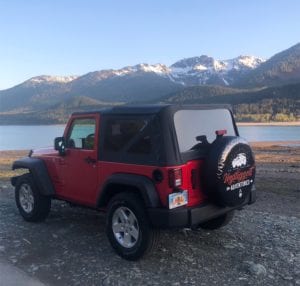 Things to do on an Unplugged Adventures Jeep tour include exploring the wilderness with lots of interesting perks along the way. (It may be a bumpy ride in places, but worth it and lots of fun). Our two-door 4×4 Jeep Wranglers comfortably seat four adults, but you could easily fit a fifth in the back seat of our four-door Jeeps. Bring along rain gear as the weather can change dramatically, and you should dress comfortably (casually) because you can expect to get a little dirty and maybe a bit wet. Closed toed shoes are also recommended. And don't forget the mosquito repellent. There are also some great shopping opportunities downtown if you need to pick up a few things.
There are many options for things to do on one our Jeep tours. You can visit the Mendenhall Glacier, which is surrounded by beautiful hiking trails for folks of all skill level! Also visit the Shrine of Saint Therese, Gold Creek and Glacier Gardens, to name just a few of the fun and exciting things to do on an Unplugged Adventures Jeep excursion.
Most visitors to this area of Southeast Alaska won't want to miss a visit to Auke Bay and Lake, which is an easy drive from downtown Juneau and one of the things to do on your Jeep tour that is well worth your time.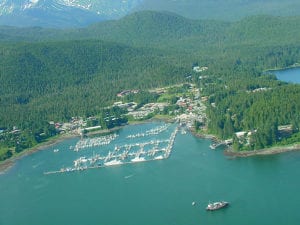 Auke Bay is not only the yachting, fishing and tour boat central for the area, it is probably the busiest port in Southeast Alaska during the summer months. To get there take Glacier Highway to the turn off that will take you right to the Auke Bay Recreational Area. Points of interest here are Point Louisa, which is a traditional fishing ground for the Native Auke/Tlingit people. Here you can spend a little time fishing, or enjoy a picnic in one of the covered areas near the beach with mesmerizing ocean views.
If you're looking for a great Alaskan meal to enjoy while driving along the beautiful coastline, whether it's convenience or that right off the boat freshness Alaskan seafood is known for, we have several recommendations for you on our website. Experience REAL Alaskan style dining!
Unplugged Adventures goes the extra mile to make sure every minute you have with us is incredible. All self-guided Jeep tours include unlimited mileage, gas, insurance, use of the customized digital guide, and any equipment you may need (car seats, gold mining equipment, bear spray, etc.).