Unplugged Adventures Jeep Tours Are Non-Stop Excitement
Unplugged Adventures in Juneau is an all-inclusive, self-paced Jeep excursion that promises a level of excitement and fun like no other. When your cruise ship arrives in port, just hop off the ship and into a Jeep to spend a day of touring the area, and still arrive back in port in plenty of time to board your ship for the next leg of your Alaskan journey.
Juneau, the remote state capital of Alaska, is geographically located between the base of Mount Roberts and the Gastineau Channel in the southeastern panhandle of the state and is accessible only by boat or plane. Rich in history, Juneau has long been the home of native Alaskan fishermen, fur traders, and gold prospectors.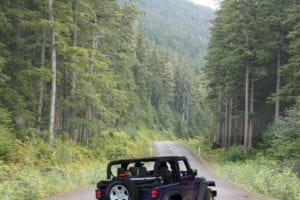 Alaska's Inside Passage, a coastal waterway carved by glaciers and surrounded by giant Sitka spruce and hemlock forests, is a popular route for cruise ships. Unplugged Adventures is the perfect base for your excursion into the wilderness. With easy access to hiking trails, opportunities abound for photographing wildflowers and the wildlife that is unique to Alaska. Your Unplugged Adventures may include stops for sightseeing Out the Road, picnicking at Mendenhall Glacier, or hiking the Juneau Icefield.
Unplugged Adventures provides a fun lesson in Alaskan gold-fever-influenced history. Try your hand at gold panning just like the early prospectors did – and perhaps come away with a unique souvenir from your experience.
Unplugged Adventures is a one-of-a-kind opportunity to view and explore the snow-capped mountains and lush rain forest. Our self-guided Jeep tours are specifically designed to make the most out of every minute you have in Juneau. Unplugged Adventures tours include unlimited mileage, gas, insurance, and the use of a customized digital guide app on a provided iPad, in addition to car seats, equipment for gold panning, and bear repellent.
At Unplugged Adventures, you can escape the crowds in a 4×4 Jeep Wrangler that comes with easy-lift soft tops, allowing you to take in the fresh mountain air or quickly take cover from the rain. Our staff is happy to set up your Jeep prior to your Unplugged Adventures tour with the top up or down. Each vehicle is equipped with a GPS integrated digital guide to ensure you never get lost. You can select one of our pre-programmed, recommended routes or customize your digital guide on the touchscreen.
Our website includes a tutorial on the guide; by reserving your spot in advance for your Unplugged Adventures tour you will be familiar with it and hit the road upon arrival.
Unplugged Adventures, 1-800-989-9868, 549 S. Franklin St., Juneau, AK 99801