Hiking Trails In Juneau – Eagle Glacier Trail – On The Way To Out the Road
Unplugged Adventures' recommends several hiking trails in Juneau and one of the most spectacular is the Eagle Glacier Trail through Tongass National Forest on the way to "out the road" as the locals say. This 8.5 miles out-and-back adventure is a moderate-to-slightly more advanced level trail that features the beautiful Eagle Lake. With more than 700 miles of trails, hiking through the forest is the perfect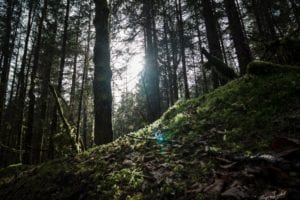 way to experience unique and fascinating hiking trails in Juneau. Scenic picnic sites can be found all along the hiking trails in Juneau. Amenities may include outdoor grills, garbage cans, shelters and restrooms. The entire trail offers unlimited photography opportunities. There are many unique opportunities to experience nature and learn more about Alaska. 
Rocks, ice, and mountains are an iconic part of hiking trails in Juneau and there are many adventurous opportunities. As one of our "slightly-more-difficult" (in some places) hiking trails, the Eagle Glacier hiking trail is well worth any extra effort. Make sure to wear waterproof boots – most of the hike is through the forest but it's close to the river so your feet will get wet. The best time for hiking in Juneau is from May until October. Dogs on a leash are acceptable. Be sure to carry maps and a compass or GPS location device when hiking trails in Juneau to remote locations. Snowshoes might also come in handy if there is still measurable snow to hike through. 
The Eagle Glacier Trail is just one of the unbelievably gorgeous hiking trails in Juneau that has a lot to offer. A newer and well maintained Forest Service cabin is available to rent on Eagle Lake with a spectacular view of the glacier. The cabin is about a 2-mile hike from the glacier. Downriver from the cabin about a half mile is the gorgeous cascading South Fork Falls where you can enjoy a picnic. It is a very easy start to the trail to the falls although in summer it can be very muddy and in the winter extremely icy. 
Hikers will have the opportunity to enjoy a copper sunset from a scenic outlook or nature viewing as part of the Tongass/Eagle Glacier hiking trails in Juneau experience. It is not unusual to see moose in the forest or brown bears feasting on salmon in a salmon choked stream. Both can often be seen moseying along the alpine meadows that are dotted with wildflowers in spring and summer.

A glimpse of the Eagle Glacier along the hiking trails in Juneau 'out the road' just before sundown can be a memorable sight. At night the stars in the clear sky are magnificent – and if you ever see the Aurora Borealis – the famous Northern Lights – you won't forget it.

As you traverse along your hiking trails in Juneau adventure make sure to watch for some of nature's most awesome surprises – from flora to fauna – it's unlike anything you'll find anywhere else.
If you are planning one of Unplugged Adventures hiking trails in Juneau remember to bring your waterproof boots, warm clothes and rain gear. In this rainforest, land is wet most of the year and some of the trails take you through boggy areas. Some of the trails have planks raised over the wet ground that protect both the environment and your feet. In some places small logs (called corduroy) are laid side-by-side on the ground to provide footing in the mud) so appropriate footwear is strongly advised.
At Unplugged Adventures, we hope your hiking trails in Juneau adventure is unlike any other you've experienced. Reserve your adventure today! Our Jeeps are pre-programmed with a 4, 6 and 8-hour trip, and is adjustable so you can add and remove additional locations as desired. The vehicle and guide are yours for the entire duration of your port stay. Hiking trails in Juneau on the Eagle Glacier Trail on the way to 'out the road' is just one of the incredible Alaskan excursions you can experience from Unplugged Adventures. Check us out today and get your adventure on the books.